http://www.guardian.co.uk/business/2013/mar/25/tobacco-smugglers-losing-uk-market-share/print
Traffickers' share of cigarette market has slumped to 9% amid joint efforts by HMRC and UK Border Agency to disrupt supply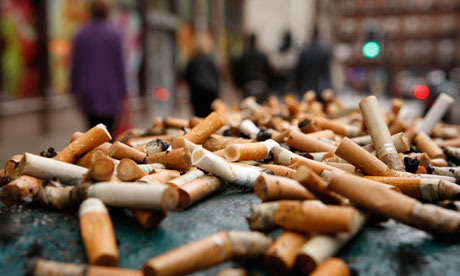 Tobacco smugglers have been thwarted by tougher legal agreements between the EU and cigarette companies. Photograph: Murdo Macleod for the Guardian
Britain is winning the war against tobacco smugglers who target cheap cigarettes at poor smokers and children and deny the Treasury revenue, according to a parliamentary report.
In 2000, one in five of cigarettes smoked came from the black market. But by 2010-11 traffickers' share of the cigarette market had fallen to 9%, according to the report on the illicit tobacco trade by the all parliamentary group on smoking and health.
Over the same period, the share of the UK's hand-rolled tobacco market originating with smugglers fell from 60% to 38%, an inquiry by the group of MPs and peers found.
Joint action by HM Revenue & Customs and the UK Border Agency has disrupted smugglers' efforts to bring in and distribute their products, as have partnerships involving local police forces, councils and NHS organisations, the report says.
Stephen Williams, the Liberal Democrat MP who chairs the group, said the success disproved the industry's claims that high taxes on their products in the UK boosted the supply of illegal tobacco.
He said manufacturers' claims that forcing cigarettes to be sold in standardised packaging would increase the illicit trade were "self-interested and at times seemingly disingenuous industry lobbying".
Legal agreements the EU has concluded with the big cigarette firms to reduce trafficking has also helped make fewer available, the parliamentarians say.
Their report highlights how the previously easy availability of black market tobacco in the UK was partly due to producers deliberately exporting more cigarettes than were wanted to other countries, knowing that many would be smuggled back into Britain.
Sarah Woolnough, Cancer Research UK's policy director, said: "This report is further evidence that the tobacco industry should not be listened to when developing health policies aimed at reducing the devastating impact of smoking."
The Tobacco Manufacturers Association claimed that more recent data showed that "the level of cigarettes consumed that are not UK tax paid has risen from 17% in 2011 to 21% in 2012″ and that figures from the Office of Budget Responsibility last week showed the government expected to receive £200m less in tobacco revenue in 2012-13.
A spokesman for the association claimed the inquiry was biased because it had not given a fair hearing to the industry and did not mention firms' contributions to reducing smuggling.